The Bourreaucrat - The Installation

The Bourreaucrat is an installation art work representing one unique manifestation of An Embassy Without A Country.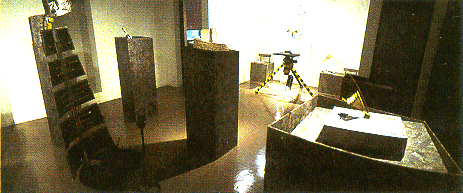 In this manifestation of An Embassy Without A Country, The Bourreaucrat Apparatus, The Assistant Interrogator, The Chairman's Chair and The Gate all form a part of an installation that recreates a fictional setting or virtual embassy in which you enter through "The Gate," a passage reminiscent of the security gates at contemporary airports. Within the compound an apparatus dispenses certificates of authority, prestige and authenticity, never taking a moment to sit in its very own Chairman's Chair while assisted by the computerized interrogator. Other Embassies were also on display at this installation, including a video of The Dance of the Nine Prostrations.

Exhibit:
June 20 to August 10 1994
Aki-Ex Gallery
5-4-44 Minami Aoyama
Minato-ku, Tokyo 107 Phone: (03) 3487-5663